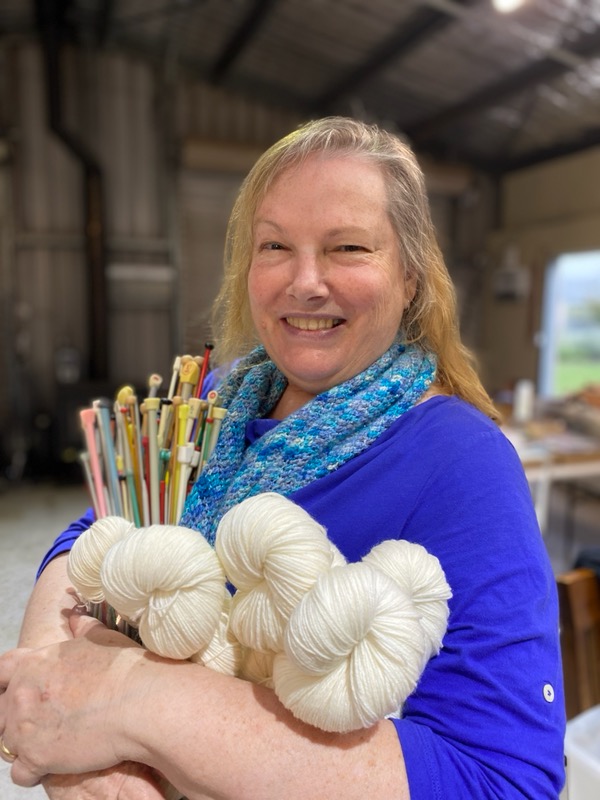 Our first Sisters Spotlight for 2020 is Jennifer Goodwin, of Henley Hand Dyed. Based near Canberra, she has a love of Australian yarn and had put together a beautiful collection of laceweight, 4ply and 8ply bases. She says:
"It's every yarners nightmare, with only about 20 rows to go, I ran out of the mohair I was double stranding with to make large shawl. It was my first personal project. There was no way I could find anything that was anything close to a match, but then I remembered a friend telling me how yarn can be dyed with tea, another love of mine; so I decided to give it a go.

I took the few odd balls of white mohair I had lying around and started playing with them in the kitchen. Having never tried this before, I ambitiously tried to replicate the yarn I already used; something I would later discover to be all but impossible. But when you don't know something is impossible, that's when the impossible happens. Through sheer fluke, I managed to do it, an exact match! The shawl was soon finished, but I was captivated by the possibilities that yarn dying could offer. I had stumbled into the marvellous and vibrant world of hand-dyed yarn.
I was first hooked on crochet by a dear great aunt who taught me when I was just a little girl. Growing up on a sheep and wheat farm in south-west NSW it was a delight when she made me my first-ever new dress from beautiful yellow wool. Her creativity and handiwork were part of the culture of hard work and persistence shared by the Henley family and the small farming community we lived in. The respect for the land, its first people, its history, beauty, and bountiful provision; it is these values that I aim to represent in every skein of my yarn. This is the origin of Henley Hand Dyed.
This collection is made from all-Australian wool, inspired by the wealth of natural beauty in our country, and named after some local flora, fauna and indigenous sites.The yarn is sourced from Millpost Merino and Bellevue Park, which are situated not far from where I live.
With the high-quality products of these two great farms and a personal passion for bringing the colours of the land into your projects, my hand-dyed yarns bring you a story in colour."
Henley Hand Dyed goes on sale in store on Saturday 7 March at 10am and online at 5.30pm. But you can start planning your projects now - simply take a look at the preview of her colours and bases.