About Us
Skein Sisters - Sydney's home of fabulous yarn
Welcome to Sydney's destination yarn store, supplying an exciting range of fabulous yarn, accessories and classes to inspire our wonderful crafting community.
We are open 7 days a week - Mon-Sat 10am-5pm, Sun 11am-4pm.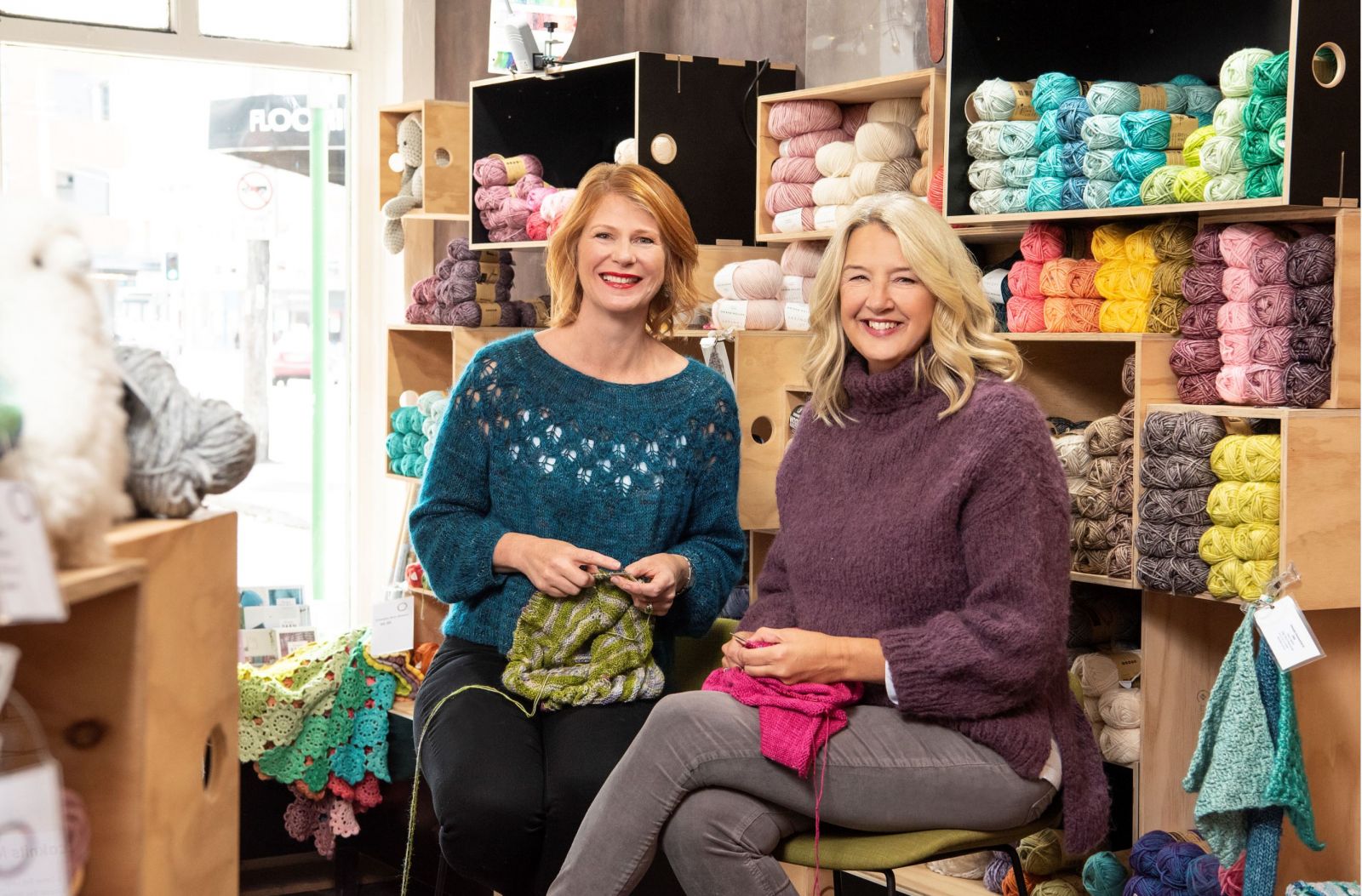 Come on in...
Skein Sisters offers a thoughtfully curated selection of creative and contemporary yarns from Australia, New Zealand, the UK, US, Ireland, Europe, Canada and South America. Our focus is on natural fibres and breed specific yarns, and whether it's your workhorse yarn or a special, covetable, luxury yarn, we have a range of price points to suit everyone. We stock a huge range of yarns, needles and hooks, notions, patterns and publications, as well as accessories. And if there's something you'd love... well, then tell us!
Skein Sisters is home for the crafting community.
Meet the 'Sisters'
Skein Sisters is the culmination of years of dreaming and planning by long-term friends Deb McDonald and Janine Smith (that's Deb on the left). It is a love of delicious yarns and accessories, together with a desire to share these wonderful treasures that led to Deb and Janine opening the store in April 2017. Frustrated by not being able to find what they wanted locally, and disheartened by the expensive and time-consuming process of ordering overseas, the friends set about sourcing the products they love to delight and inspire local crafters.
Both grew up in homes filled with knitting and sewing. Deb's first career was in retail, fashion and textiles where she worked in fabric production and several stores including the Ladies Knitwear department of Harrods, London. She took a side step in her late 20s into the world of plants and became one of Australia's leading gardening journalists, editing a national magazine, writing books and newspaper columns, and appearing at events and on radio. Deb is thrilled to be working in her first love of fibres and textiles.
Janine pursued a career in the world of advertising and marketing including over 10 years in a variety of roles with Network Ten television. Positions with Reebok Australia, Ogilvy and Mather, Major League Baseball and two wildly fun years running the UK marketing of a leading London-based casino group, have made for a rewarding career. Most recently both Deb and Janine have been fortunate enough to be involved with the Royal Botanic Garden Sydney and the vital work of the Foundation & Friends of the Botanic Gardens.
Over five years on, they are both so grateful that Skein Sisters has found its place at the heart of Australia's crafting community.
Come in. Sit. Knit. Crochet. Chat. Shop. Learn. Share.
In Sydney's home of fabulous yarn. Skein Sisters.
Because we all deserve fabulous yarn.
Meet the Team
Our team at Skein Sisters are the ones who will make your visit truly special. Linda, Jane, Helen, Olga, Nikki, Marghie, Tracey and Suzi all have a passion for making and amazing knitting and crochet skills that they love to share.
Our online team - Maria, Julia, Sharon, Isobel and Sarah - make sure that your orders are handled with plenty of love and the attention they deserve.
Pop in or give us a call - we're always here to help.
Skein Sisters is proud to support Wirringa Baiya Aboriginal Womens Legal Centre
Wirringa Baiya provides Aboriginal and Torres Strait Islander women and children in NSW with a gender-specific service sensitive to their culturally diverse needs; and to provide Aboriginal and Torres Strait Islander women victims-survivors of violence with access to appropriate legal representation, advocacy, advice, and referral. The Centre's values are that Aboriginal and Torres Strait Islander women manage the service, be non- profit-making, and pay special attention to the needs of economically and socially disadvantaged Aboriginal and Torres Strait Islander women and children.
Wirringa Baiya was the first and only Aboriginal women's legal centre managed by Aboriginal women in New South Wales, and the first within Australia. To find out more about this wonderful organisation view their website here. To donate and support their work, follow this link