Guide to Sizing
WHAT NEEDLE OR HOOK DO I USE?
Knitting needles and crochet hooks can vary in the way they are labelled depending on whether you're using needles that are in metric size, US size or UK size.
The following table can be helpful if you need to convert knitting needle sizes: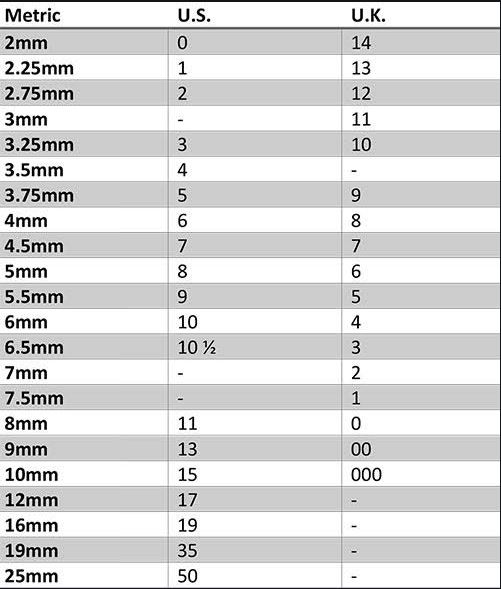 HOW ARE YARN WEIGHTS CATEGORISED?
The table below from the US Craft Council outlines some general yarn weight categories and suggests suitable needle and hook sizes in metric and US sizings.
Categories of yarn, gauge ranges, and recommended needle and hook sizes:
Yarn Weight Symbol

& Category Names

Type of
Yarns in
Category

Fingering




10-count




crochet




thread

Sock, Fingering, Baby

Sport,




Baby

DK,




Light




Worsted

Worsted,




Afghan,




Aran

Chunky,




Craft,




Rug

Super Bulky,




Roving

Jumbo,




Roving

Knit Gauge
Range* in
Stockinette
Stitch to 4 inches

33–40**




sts

27–32




sts

23–26




sts

21–24




sts

16–20




sts

12–15




sts

7–11




sts

6 sts and fewer

Recommended
Needle in
Metric Size
Range

1.5–2.25




mm

2.25—




3.25




mm

3.25—




3.75




mm

3.75—




4.5




mm

4.5—




5.5




mm

5.5—




8




mm

8—




12.75 mm

12.75 mm and larger

Recommended
Needle U.S.
Size Range

000–1

1 to 3

3 to 5

5 to 7

7 to 9

9 to 11

11




to 17

17




and




larger

Crochet Gauge*
Ranges in
Single Crochet
to 4 inch

32–42




double




crochets**

21–32




sts

16–20




sts

12–17




sts

11–14




sts

8–11




sts

7–9




sts

6 sts and fewer

Recommended
Hook in Metric
Size Range

Steel***




1.6–1.4




mm




Regular hook




2.25 mm

2.25—




3.5




mm

3.5—




4.5




mm

4.5—




5.5




mm

5.5—




6.5




mm

6.5—




9




mm

9—




15 mm

15




mm and




larger

Recommended
Hook U.S.
Size Range

Steel***




6, 7, 8




Regular




hook B–1

B–1




to




E–4

E–4




to




7

7




to




I–9

I–9




to




K–10 1⁄2

K–10 1⁄2 to




M–13

M–13




to Q

Q




and




larger

* GUIDELINES ONLY: The above reflect the most commonly used gauges and needle or hook sizes for specific yarn categories.

** Lace weight yarns are usually knitted or crocheted on larger needles and hooks to create lacy, openwork patterns. Accordingly, a gauge range is difficult to determine. Always follow the gauge stated in your pattern.

*** Steel crochet hooks are sized differently from regular hooks—the higher the number, the smaller the hook, which is the reverse of regular hook sizing